Pros and Cons: Annapurna vs Everest Base Camp
Next stop – Nepal! Great choice indeed! Now the next tricky decision you have to make is choosing the trekking route. And even if you have a plethora of trekking options in Nepal, for your first time here you will retain the two most famous trails Everest Base Camp and Annapurna Base Camp. Most probably along the time you will tick both, but just one of them will be the first. Which? That's a good question!
Everest is world famous, the highest peak on earth and maybe a lifetime dream, something to brag over the years. Annapurna proposes more diversity, more cultural interactions with the locals, trekking at lower altitudes and an incredible landscape. Picking among them is more of a personal preference and taste, as both have pros and cons.
Overview of the trekking routes


Source: Pixabay
If you are a mountain addict and want to be literally immersed into the heart of the mountains and surrounded by unparalleled landscape, with enormous peaks towering above, Everest is the option. Everest is from all points of view a classical Himalayan option in Nepal. You will enjoy some of the most mesmerizing panoramas of the Himalayas, passing through Island Peak, Cho La or Gyoko Lakes. Trekking takes place at higher altitude, from the second day the altitude approaches 3,500m above sea level and is quite challenging.
All sort of sharp peaks will show their bumptious face along Khumbu Valley towards your final target, Everest: Lhotse 8,516 m, Nuptse 7,681m, Pumori 7,161m, Ama Dablam 6,812 m, Thamserku 6,608m, Kusum Kanguru 6,367m and of course Everest 8,848 m. Along the way you will get in touch with the Tibetan Buddhism, Sherpa culture, meet the danphe – the Nepalese national bird, the yeti skull in Tengboche, see the Dudh Kosi river and more.
The starting point for the Everest Base Camp trek is in Lukla. To arrive here you have to take a domestic flight, a very spectacular one indeed, if you have no problems with flying, from Kathmandu. Views are glorious, but don't make the mistake to look down. If you don't want to fly to Lukla, the only option is to trek the so-called "pioneers' route", used by early expeditions to Everest in the twentieth century. Choosing this alternative will add a week to the length of your trek.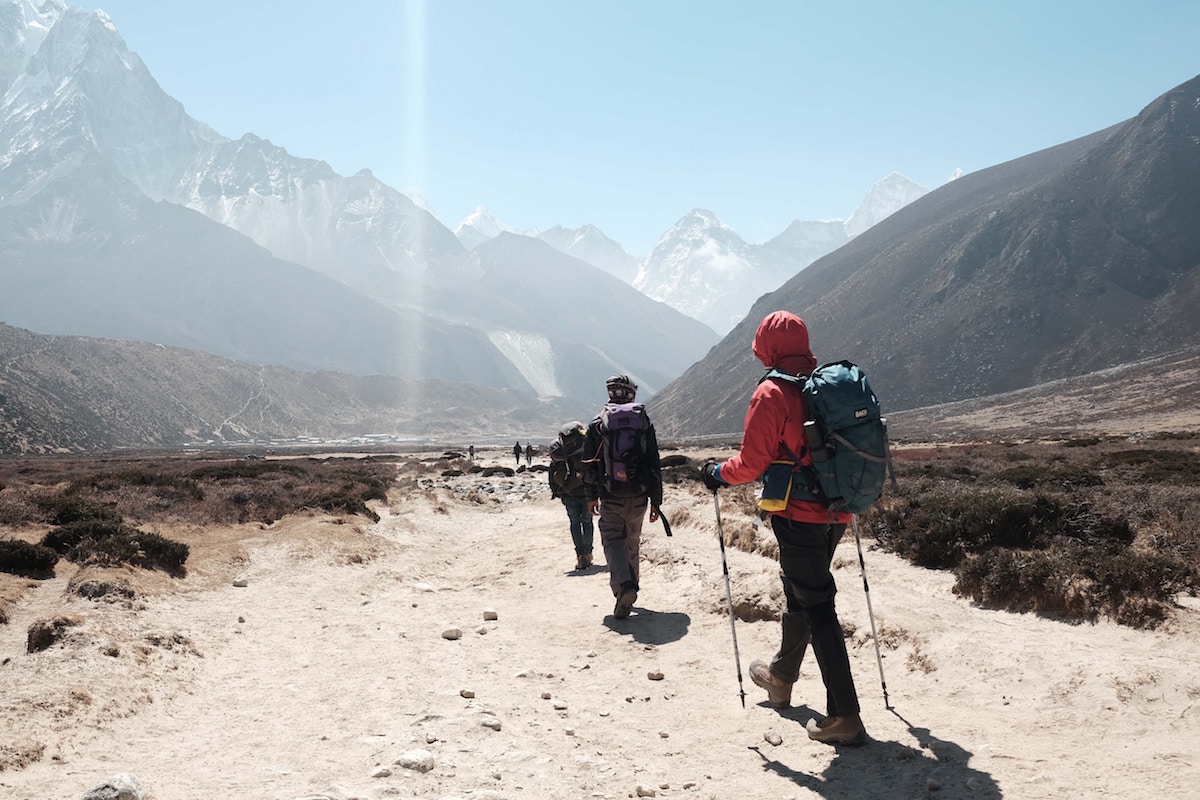 Source: Unsplash
While on trek to Everest Base Camp you have the occasion to get in contact with the Sherpa culture and a realm that breath spirituality. Sherpa people are Tibetan ethnics, Buddhism devoted. You will come across many traces of spiritual life, from interesting monasteries to colored prayer wheels and people wearing their ancient traditional costumes.
Everest trek reaches higher altitudes, among majestic glacial mountains is colder and drier.

Source: Unsplash
Annapurna is less soliciting and a better option if your mountaineering skills need improvements. The altitude runs lower and reaches only 4,130m, so it's more manageable than Everest. The steep ascensions are fewer, the descents are friendlier, you have several trails at your disposal to pick. You can opt for an easy-going route that walks you at about 2,000m altitude, not more, or for a more challenging one that will carry you through jungles and beautiful rice fields. Remember, Annapurna is a circuit, you do not return on the same path as on Everest.
You will have the privilege to see the following peaks Annapurna I 8,091 m, Dhaulagiri 8,167 m, Annapurna South 7,219 m, Machhapucchre 6,993 m, the Kali Gandaki gorge, lots of rhododendron forests, oak forests and the rainshadow of the Himalayas. Plan your trip in April to see the rhododendrons bloom and you will add a huge extra to your trekking adventure. The trail walks you through the Modi Khola canyon and gets you out of the canyon in front of the Matterhorn of the Himalayas, Machhapuchhre peak. Once inside the Annapurna Sanctuary you will relish spectacular vistas and alluring high peaks that surround you from all parts.

Source: Unsplash
If you plan your journey during winter be aware that Annapurna gets more snowfall and is subject of avalanches, because the trek covers the Modi Khola canyon.
Annapurna Base Camp circuit can include the Poon Hill trek and extend your trip with several days by walking through foothills; this is an experience you will enjoy greatly and that you don't want to miss.
Another advantage of Annapurna is that you can reach the starting point of the circuit, the town of Pokhara by car or by bus from Kathmandu, if you are not a great fan of flying in small planes. And thus, Annapurna circuit is more accessible than Everest. Pokhara is sheltered on the shores of the splendid Phewa Lake and you could relax easily here for a few days just enjoying the peace and serenity of the area.
Culturally Annapurna is again more diverse and shows you a society stuck up in time. On your way to Annapurna Base Camp you will meet more ethnic groups like Gurung, Manangba, Thakali and lots of rural settlements. 
The accommodation on both trails is almost similar. The only notable difference are the bathrooms. On Everest trek most bathrooms are indoor, shared with western type toilets, while on Annapurna they are outside and squat type.
In terms of costs Annapurna is cheaper, because Everest Base Camp is a renowned brand by now, has better facilities for tourists and higher elevations that involve higher costs and supplementary precautions. If you prefer more comfortable accommodation, then Everest will gain the race. But if you want to experience a glimpse of the Nepalese rural life and choose to stay in a normal house with a guest room, this is totally possible on Annapurna.
Even if cheaper Annapurna is by far less crowded than Everest. On Everest you have high chances, no matter the season, to meet large groups of trekkers, or in May professional teams preparing for the ascension and climbing to Everest.
These are, in general, the similarities and differences between Everest Base Camp and Annapurna Base Camp. It's up to you to decide which one fits best your requirements. Anyway, no matter which one you choose, it will be a unique experience from many points on view. And more than sure you will be back for a second part.