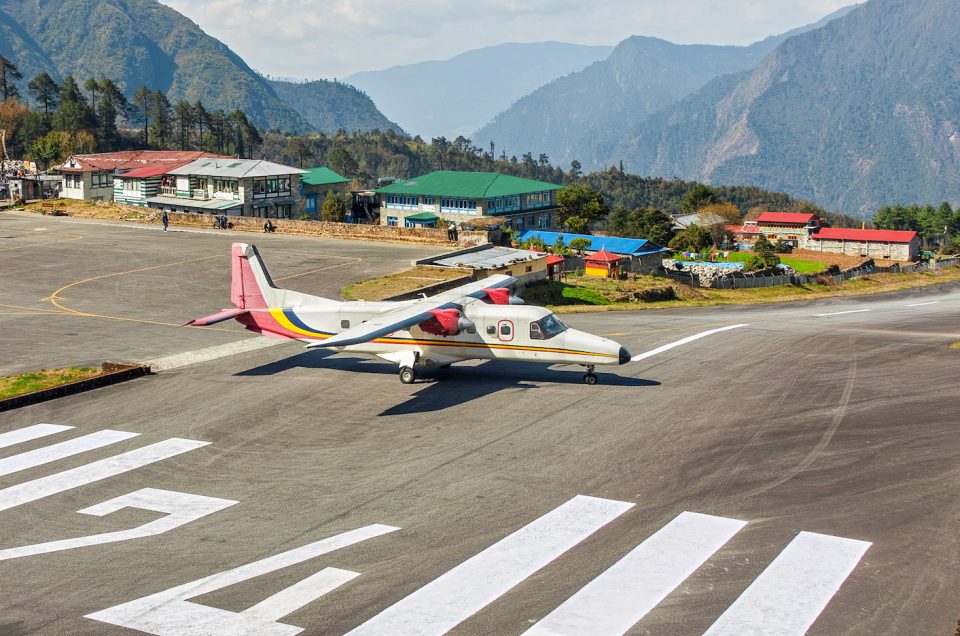 Trekking in Nepal's Everest region is a world-class experience and getting to the starting point of your Everest trek is an adrenaline boosting adventure. Almost all trekking routes are approached via a short flight from Kathmandu to Lukla airport.
Tenzing-Hillary Airport or commonly named Lukla Airport is a small airport placed inside Lukla town in Khumbu, eastern Nepal. To honor the first two people who reached the summit of Everest and their support for the airport construction, the official name of the airport has been called this since 2008.
Established at 2,860m altitude, Lukla airport is the shipping pole and trekking hub of the region. Nearly all trekkers heading towards Everest area pass through this airport and the traffic here has increased exponentially in recent years.
How Safe Is It to Fly to and From Lukla Airport
Lukla airport is consistently present on the list of most dangerous airports in the world however this is just a statistic and reputation, overall it is safe to fly here. The reputation is there due to it's geographic placement, scarce electricity, poor records of safety flights and air companies black listed by the European Union. The ever-changing weather conditions in the mountains, surrounding landscape, thin oxygen and a short, sharp runway at the edge of a huge cliff make landings here highly challenging. Incidents and accidents occasionally occur, or at least it used to be for quite a while.
You will feel your adrenaline pumping whilst on this exciting flight, but you will also be rewarded with a mind-boggling scenery with panoramic views of the beautiful Himalayan high peaks and valleys one after another. The Kathmandu to Lukla airport flight is short, taking up only 30-45 minutes of journey time in total.
Functioning hours of the airport rely heavily on weather conditions. During auspicious weather more than a dozen daily flights are scheduled between Kathmandu and Lukla. In sunny days during peak season, flights are operating all day long starting from 6am till 4pm in the afternoon, meaning about 20-30 flights throughout the day.  In days where there is poor weather conditions like low visibility, strong winds, clouds, flights may be delayed or the airport completely closed for days.
And for tourists there are no other reliable options than to wait for the weather to calm down.
Even if statistically Lukla airport is more dangerous than a common commercial airport it can be considered safe enough. In the last decade the regulations have vastly improved and also the rules concerning acceptable flight conditions, so the aircraft incidents that involve passengers have virtually diminished. The last such incident – Lukla airport crash was registered in October 2008.
Anyways, with safety regulations improved, the flight via Lukla airport is still not for the faint of heart.
Because of unforeseeable weather conditions flights are often delayed, so it is recommended to have your flights to Lukla scheduled in the first part of the day, the first flights if possible. This will offer you the possibility to take a later flight if required. The first flights of the day usually consist of better visibility and the weather tends to be more consistent. Choosing to do so, will add up towards the safety of your flight and minimize the delays caused by this flight.
Lukla Airport Weather and Flight Delays
Because of the challenging position of the landing strip on the airport, only helicopters and small aircrafts can land here. The air strip can be approached from one single direction from the valley above which it is positioned.
And also, the elevation and rapidly shifting weather conditions are some of the other reasons for which flights will not run on schedule. These days airlines do not take any risk and chances against bad weather conditions, if it is unsafe for landing then the flights will return to Kathmandu.
The reality is that flight delays at Lukla airport are more than common. Delayed flights might be rescheduled later on the same day or several days later, it's practically impossible to predict. Delays are possible at any time of the year but are by far more frequent during the monsoon season, from May to September.
The occasional delays can be unpleasant but flying to Lukla airport is part of the Everest "charm". Thus, it is recommended to add a day or two at the beginning or the end of your trek, just in case, to have some flexibility and not impede on your international flights.
Plan some extra days at the start and the end of your trekking trail just to prevent any inconvenient weather intervention. Depending on the time of the year when you will visit Nepal you should consider adding:
2 days of added time from mid-September to mid-May.
3 days of added time during the second half of May and first half of September.
4 days of added time during the first half of June and second half of August.
Luggage delays can also occur at Lukla airport, even if they are not that frequent. You should have all of your personal belongings, valuables and the things of immediate necessity with you in your hand luggage.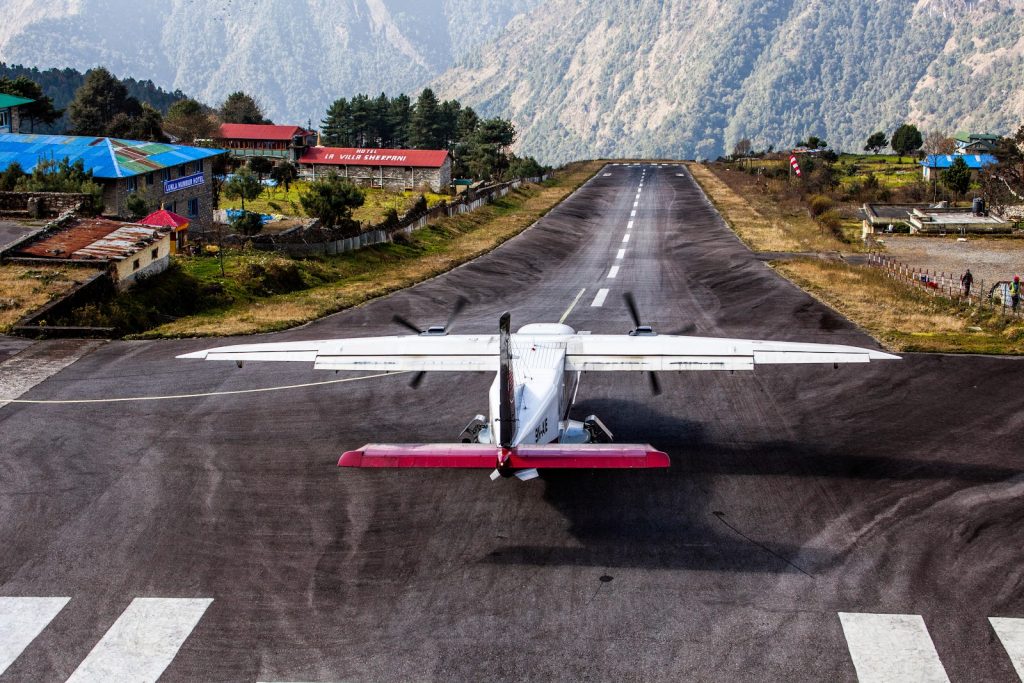 Source: Four Feet in The Clouds
Alternative Options to Regular Flights
If your flight was cancelled, the best option is to wait for your flight to be rescheduled.
In theory helicopters are an alternative to regular flights on Lukla airport as they can most often fly in conditions that a small airplane cannot. It is possible to change your delayed flight with one operated by a helicopter, but this is expensive and there is no guarantees of the departure. If required, Himalayan Steps will organize a helicopter to get you to Lukla in time for your scheduled trek or back to Kathmandu in time for your international flight.
If you choose to use a helicopter instead, expect to pay on average of around $400 – $600 extra per person. Take into consideration that prices can vary, and they fluctuate with the raise of the demand. When the demand is high the helicopter will cost more and when regular flights operate normally, they cost less. The prices may be modified depending of the number of seats sold in the helicopter. In general the cost for a helicopter is approximately between $2500USD – $3000USD. The helicopters normally have a total capacity of between 4-6 people that are allowed on the flight so therefore the cost associated for this flight service can be split among the group that is flying (minimum of $400USD to a maximum of $3000USD per person)
Other alternatives might be:
Hiking from Jiri. You can skip the flight to Lukla if you plan to start your trip to the Everest Base Camp through Jiri. But that means adding 5 days to your trip plus a long mountainous bus ride.
Trek to Salleri. This option means trekking two days from Lukla to Salleri and driving in a jeep from Salleri to Kathmandu.
Helicopter to Surkhe.
Helicopter to Paphlu.
Flying via Lukla airport might be exciting, slightly dangerous and most definitely adventurous, but if you head up to Everest region this is a journey you must take and will certainly offer you some great memories from your trip.