The Everest Base Camp weather can be unpredictable and ever changing.
After the polar regions Himalaya shelters the largest ice surface on earth and is often considered the third polar pole in the world. Temperatures at the peaks are never above 0° C and in winter they can drop till -60° C or -76° F. Weather in the Everest region is highly unpredictable, ever changing and one of extremes. Temperatures at Everest Base Camp can vary throughout the year.
Weather conditions will play a definitive role for your Everest Base Camp trekking, so pay attention and check weather forecasts when deciding the period for your ECB trail. Pack accordingly and be prepared for all types of weather.
Mount Everest headquarters in the northern hemisphere at 28° north of the equator. It bears the influences of the Indian Monsoon usually from June to September. The best month to trek to the Everest Base Camp is October – peak season, other favorable periods are March May and October November.

During the winter months of December to January trekking is still possible however there are lower overall temperatures. Also, besides cold temperatures, winter will display most often strong winds and heavy snow falls. The advantage is that you will encounter very few trekkers and you'll have the trails all for yourself.
During Monsoon season is the main period that trekking to the Everest Base Camp is not recommended, because heavy rainfalls and clouds that will obstruct views. In such a period you might be lucky if you arrive to see once the Everest due to fog and clouds, not to mention the difficulties caused by moisture while hiking as the trail gets slippery and muddy.
The monsoon period varies along the years. There are years when the monsoon starts late May and years when it starts just by the end of June, but most often around mid-June. Monsoon season lasts until mid-September some years and others till early October.
Precipitations in the Everest Base Camp area are fairly scarce with an average of 18 inches, and 80% falling during monsoon season.
Except temperature, climbers on Everest have to face wind chill and hurricane force winds that may reach 285km/h.
Take a look at the graph below to see the yearly average temperature and rainfall around Everest Base Camp:
Source: Everest Base Camp Trek Guide
Everest Base Camp Weather During Spring
Spring from March to May is a favorable period for trekking towards the Everest Base Camp, temperatures are mild, they start to increase and the sun shines for 7 hours.
Wind speed decreases to approximative 14km/h and precipitations are rather rare averaging 15mm per month.
Even if the mornings and nights are still cold, in general the weather conditions are pleasant and visibilities are good, inviting to trekking.
Everest Base Camp Weather in March
With March the spring season starts, the temperatures begin to climb up, but the days are still short and there are chances to snow. Temperatures are reasonable, averaging between 7°C during the day and -12 °C during nights and early mornings.
Teahouses will open again for the season.
Source: Photo by swapnil vithaldas on Unsplash
Everest Base Camp Weather in April
April is one of the best periods to trek in Everest regions till the Base Camp.
The temperature is more convenient with 10°C during the day and minimum temperature during nights of -5°C.
Since it's mid spring you will get the chance to admire a serene landscape with blooming wildflowers and rhododendrons, and also enjoy sharp panoramas of Mt. Everest.
Everest Base Camp Weather in May
In May the spring season ends, but temperatures are higher, days are longer and sunnier.
Temperatures are by far more pleasant ranging from 15°C during the day and reaching frozen level during nights.
During May start the expeditions heading to the peak of the Everest.
Everest Base Camp Weather During Autumn
Autumn marks the peak season for trekking in Nepal. During this time, you will encounter crowds of trekkers heading to Everest Base Camp and teahouses may become overbooked.
Autumn in Nepal offers auspicious conditions for trekking, moderate temperature averaging 15°C with a maximum around 20°C and a minimum around -10°C, not too cold and not too hot.
These are the driest months of the year, chances of rain are really low and wind speed is at low levels of 14km/h.
Sunlight is present 7 hours a day in autumn.
Everest Base Camp Weather in September
In September temperatures start to decrease together with rainfalls.
Temperatures are situated in the mild segment, the maximums around 15°C and the minimums turning around 2°C.
Mountain views can be admired again without forbiddance.
Everest Base Camp Weather in October
October is the peak of the peak season, with no rain chances, no fog and no clouds and maximum visibility of the mountainous landscape.
Weather conditions are stable and the most favorable during this month. Temperatures are convenient evolving between a maximum of 12°C and a minimum of -6°C.
If you choose this month to trek to the Everest Base Camp, be prepared for agglomeration, as lots of tourists prefer this month to do the same. Tourist attractions will be crowded, Everest Base Camp included, flights overbooked and prices higher.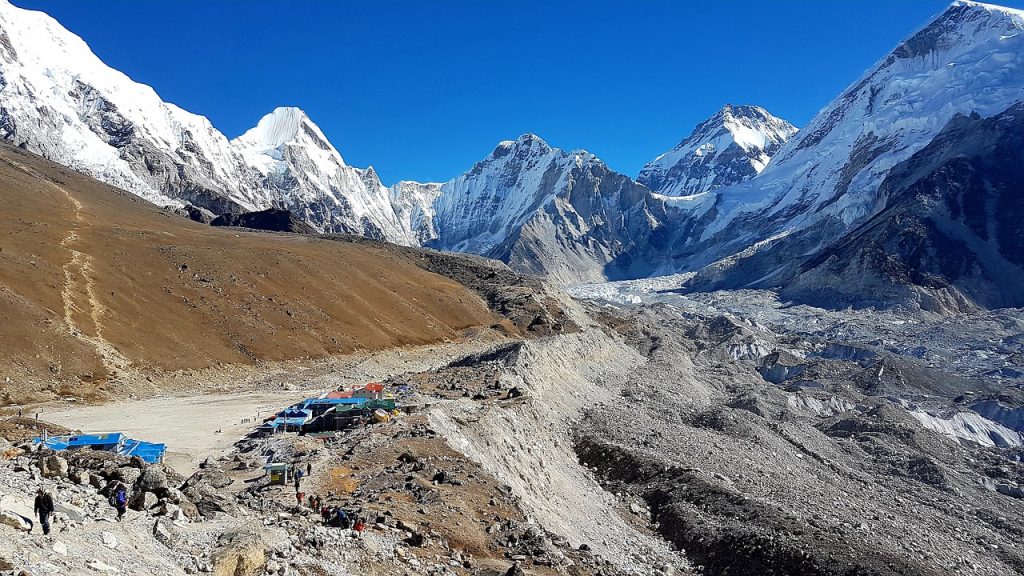 Source: Pixabay
Everest Base Camp Weather in November
In November the days are still bright and sunshiny and the superb views of Everest Base Camp accessible.
Temperatures are still acceptable ranging between a maximum of 6°C and a minimum of -12°C.
By the end of this month the temperatures will start to decrease and cold to install better. So, if you choose this month pack accordingly, the sleeping bag is compulsory.
Everest Base Camp Weather During Winter
Trekking to Everest Base Camp during winter can be challenging but you can enjoy a splendid reward, mountain scenery and panoramas are simply breath taking. The views of Himalaya during the winter are simply the best.
In general, the winter in this region is dry, but in high elevations the snowfall will be heavy.
The variation between the maximum and minimum temperatures is large, from 20°C to -17°C. The daylight lasts for about 7 h.
This is low season and you will encounter rarely other trekkers.
Indeed, the weather conditions in the Everest region are unpredictable and may show sharp shifts in a matter of minutes, but this adds to the charm of the region.
You can choose to trek to the Everest Base Camp whenever you consider appropriate and according to your preferences, just pay attention, do your homework, be prepared physically and mentally for this challenge. Bad weather may occur anytime, just be prepared no matter the situation and you will have an experience to remember.