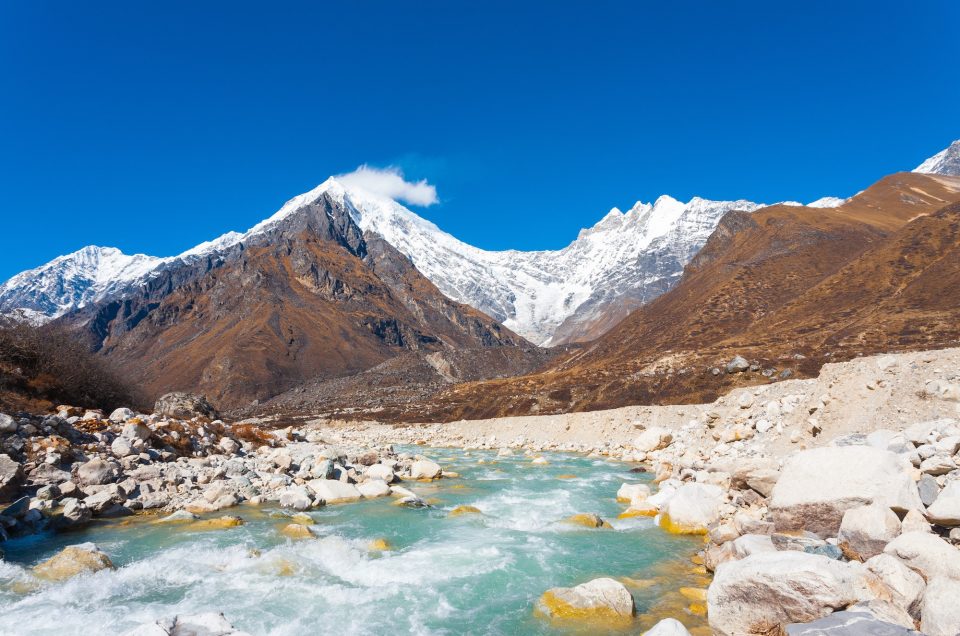 Langtang trekking trail used to be the third most popular trekking destination in Nepal, until the devastating earthquake of 2015. This is still considered one of the best Nepali treks though and for good reason.
Trekking in Langtang is a blissful combination of remote, serene areas like Langtang valley, Helambu valley with its charming Langtang National Park or holy Gosainkunda lake.
Langtang trek will drive your footsteps through the Langtang Himalayan region, Rolwaling region and Ganesh Himal region while displaying a plethora of alluring heights and stunning panoramas of Shishapangma 8,013m, Gaurishanker 7,145m, Langtang Lirung 7,246m,  Langshisha Ri 7,134m, Dorje Lakpa 6,988m, Ganesh Himal 6,704m and more.
Langtang trek is a moderate to challenging trail and is the perfect fit for all mountain adventurers. Trekking in Langtang region offers several options and you can choose the one that matches best your scope:
Langtang valley trekking
Langtang Helambu trekking
Langtang Gosainkunda trekking
Helambu valley trekking
Langtang Ganja la pass trekking
Langtang Tamang heritage trekking
Langtang valley Yala peak climbing
Nagarkot Helambu trekking
Tilman pass trekking
Budhanilkantha Gosainkunda trkeking
Langtang region trekking routes have a wide array of tea house facilities and camping facilities to improve trekkers experience in the area. Trails in Langtang are less busy than those in Everest and Annapurna regions, and are more accessible from Kathmandu, without involving domestic flights.
Langtang treks have a variable length in time from seven days to over twenty days and are an excellent opportunity to visit remote mountainous villages, a rich ecosystem, explore glaciers and discover interesting peaks at decent elevation. All these Langtang trekking routes have the most majestic Himalayan snowcapped tops. The exploration of Langtang region has four starting points for the treks: Syabrubensi, Melamchi Pul Bazaar, Dunche or Sundari Jal
Langtang treks are a great option for anyone aiming to trek in the Himalayas but searching for softer routes with shorter walks and a lower level altitude.
Source: The Adventure Junkies
On some of these treks you will encounter stunning landscapes with bamboo forests, rhododendrons and rose tree forests, dotted with sparkling waterfalls and, of course, impressive mountain peaks. Also, you will get the chance to see a glimpse of local culture and traditions.
In other parts, like Helambu region or the lower side of Langtang valley you will be welcomed by rich forests with a rich flora and fauna. After that you will encounter pinewoods, yak pastures, glaciers and settlements of Langtang people. While trekking in Langtang/Helambu area you will meet the best collections of plants in Nepal and a mix of local cultures Newari, Sherpa, Tamang, Bhotia and Hindu.
Best Time to Visit for Your Langtang Trek
As for the other famous Nepali treks the best time to schedule your vacation is in spring and autumn, meaning March to May and September to November. During this time of the year the weather is usually pleasant, with few rainfalls and best chances to admire the mountain views.
Langtang treks are moderate treks, that do not require advanced skills or experience. You can very well choose Langtang hikes as your first trekking experience, but you still have to be physically prepared. You have to be moderately fit and preferably start some sort of training program several weeks before your trek.
Accommodation at the Langtang Trek
Unfortunately, the Langtang region was one of the most affected by the earthquake of 2015, and a large number of tea houses and dwellings were destroyed back then. Locals are making huge efforts to recover and reconstruct, and trails were again opened for trekking. The newly rebuilt tea houses have better facilities than before, like for example the possibility to take hot showers.
Hence, the number of tea houses is rather low and of lower quality than those that you encounter in Annapurna or Everest areas. Anyways, you can find easily a place to serve a good meal and enjoy a decent accommodation. On these trails do not expect luxury options for accommodation, the teahouses are simple and ensure a minimum of comfort.
As anywhere else in Nepal the most common dish is the local traditional Dal Bhaat. This will provide you enough calories and energy for long walks through the mountains. The menu of tea houses includes other options like cereals, pancakes, eggs, porridge for breakfast and pasta, pizza, noodles, momos for dinner.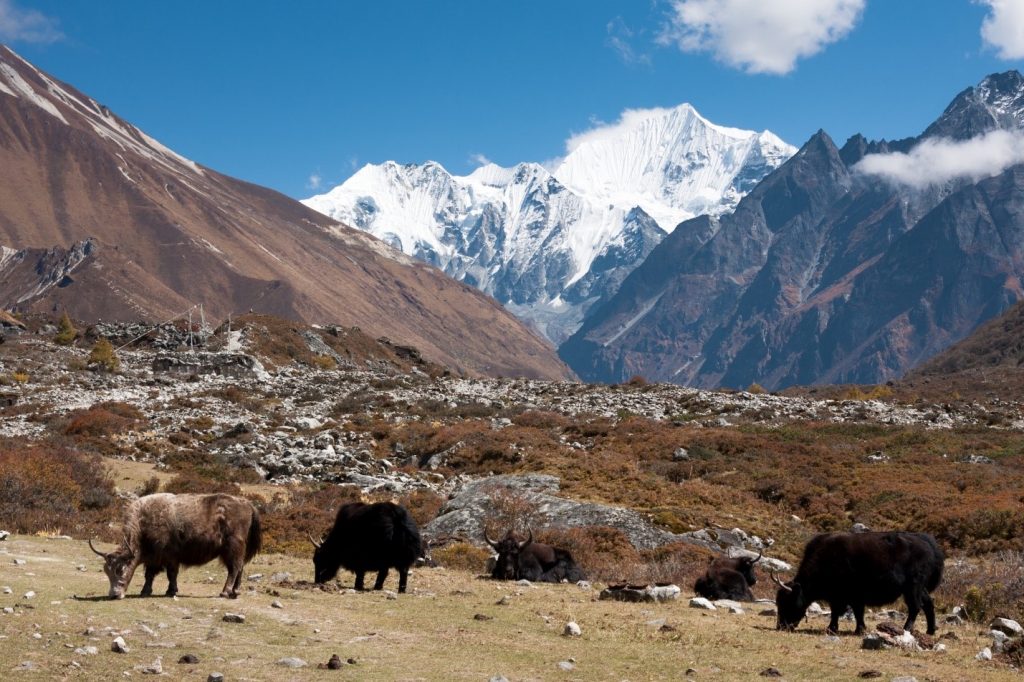 Organizing Your Langtang Trek
It is highly recommended to use a tour agency for your Langtang trek. A guide will be provided and this will add up to your security while in the mountains, which will help t o provide you with the very best options for the routes and also will be on hand in case of any emergency. An experienced licensed guide will be a great advantage particularly if you are a beginner trekker. He will also know best places to stop, best places for accommodation and for eating.
To totally enjoy your Langtang trekking is also recommended to hire a porter to carry your stuff, tour will always provide one to support you on this trek. This way you get rid of a large part of your luggage (it's not exactly pleasant to walk at high altitude carrying some 10-15 kg in your rucksack) and you will also help to contribute to improve the locals' standard of living.
It's a good idea to pack light and just the necessary stuff for your trek, as even if you use a porter, the weight they can carry is limited.
Be aware that a 15% tip is advised for the guide and the porter.
Pay Attention to the Altitude
Even if Langtang trekking is more feasible than Annapurna Circuit or Everest Base Camp and the altitude where you climb is lower, the altitude is still over 3,000 metres. So, do not ignore altitude sickness. Before deciding to plunge in such an adventure visit your doctor and check if you are in good shape for this type of activity.
Inform yourself, consult with your doctor and follow the necessary instructions to protect yourself from altitude sickness symptoms. In case you notice persistent symptoms notify your guide and we will descend immediately to lower altitude and get medical attention if required.
Do not forget your travel insurance, to avoid unpleasant situations in case of accidents or altitude sickness.
LangTang trekking is a nice blend of the beautiful Himalayaas, local flavors and cultures. Inform yourself in advance, prepare yourself and you will most definitely have an experience to remember for many years to come.