Virtually anything you might need for trekking in Nepal can be found in Kathmandu.
Let's explore why you should buy your trekking gear in Kathmandu.
Thamel street and surroundings gather a plethora of shops offering a large variation of equipment and gear for hiking and trekking, for all tastes and wallets. From luxury brands to used equipment and buy back. A sort of trekkers shopping paradise!
Of course, your needs in terms of trekking gear will depend on how your expedition will be organized, if you will be camping overnight or use teahouses, if you will have a guide or not. As general idea, trekkers in Nepal need more or less the same equipment like in any other part of the world plus some specialized items. Once in Kathmandu you need to know exactly what you want to buy and if possible, from where.
A few tips before digging into more details:
Your trekking boots should be broken in and sturdy, it's preferable to bring them from home
Famous brands equipment is equally expensive as in your home country
If you decide to complete your gear in Kathmandu schedule at least a day for this activity
If you do not want to carry home trekking gear or this is not a very frequent activity for you, it's probably a better option to rent the missing equipment
There are many shops in Kathmandu where you can pay in US Dollars, Euros or Sterling Lira
If you are looking for cheap gear, you will find plenty but pay attention to quality, knock-off shops vary greatly in price and quality
For first timers, buying trekking gear in Kathmandu, may be an overwhelming experience.
Buying High Quality Trekking Gear
All famous brands that produce trekking and hiking equipment are present in Kathmandu Mountain Hardwear, North Face, Red Fox. If you are a mountain addict and want to invest in some top-quality equipment, that will last for a lifetime, you can very well do this in Nepal.
Such items might be Goretex jackets, down jackets, sleeping bags or backpacks.
Most renowned brands are positioned on a road called Tridevi Sadak, on the road from Durbar Marg to Thamel:
Mountain Hardwear Shop Kathmandu – located on Tridevi Sadak.
North Face Kathmandu Store – again located on Tridevi Sadak, Thamel
Red Fox Kathmandu – situated in Narayanhiti Path, Lal Durbar Marg
Black Yak Kathmandu – situated in Narayanhiti Path, Lal Durbar Marg
Sherpa Kathmandu – situated in Narayanhiti Path, Lal Durbar Marg
Buying Cheap Trekking Gear of a Decent Quality
Source: Gowithannie.com
Knock-off trekking gear is flourishing in Kathmandu. However, identifying the differences in quality are not exactly easy to detect. Most of the merchandise is of Chinese or local origin, and you have to check carefully the zippers, stitching strength, dimensions, etc. Anyway, for a fraction of the price you would pay in your home country you can buy here good quality items.
Even if there is a myriad of shops of this type, with a large variation of quality, their main problem is that they have no prices listed and sellers indicate prices out of thin air. If you enter three shops, you may end up with 3 different prices for the same item (read multiple two-digit percent difference in prices).
After that you have to bargain, some recommend cutting off 60% from the price requested in such shops. Thus, an option is to visit several shops and check on the prices, or to inform the shopkeepers that you already visited some other shops and you are aware of the price levels. This means that they will propose better prices to win your business.
So, finally the price you will pay here will be a mix of how talented negotiator you are and how much you expect to pay for a certain item.
To sort things out quicker, you can ask your local guide, if you use one, to recommend some places and to help you identify them. Or ask your host where you stay. Be aware that identifying small shops on your own can be quite a complicated task, as locals will use a name for a street and apps like Google maps a different one.
Some recommended shops are:
Shona's Alpine, Thamel
This is a shop highly recommended by a large number of trekkers. Shona's offers equipment to buy and rent and its major advantage is that the prices are fixed, and you don't have to bargain. Also, owners are familiar with the mountains and can honestly make recommendations on what you need in function of your itinerary. The prices you will find here are correct for the items' quality.
Here you can buy sleeping bags and down jackets of high quality manufactured by the owners of the shop or rent them for $1 USD a day for one item.
See the location of the shop.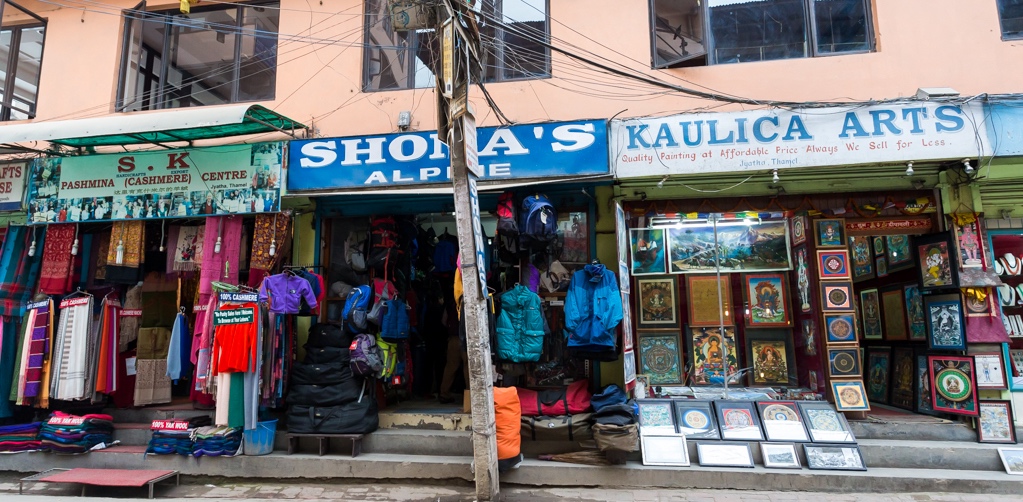 Source: EmperorPrometheus
Gears Nepal – gearsnepal.com – a full line of equipment from clothes to tents and tools.
Samden Sherpa  –  located in Jyatha, Thamel; offers a wide variety of gear and gear repairs.
Renting Trekking Gear
If mountaineering is not exactly your issue, but you want to see the Himalayas on spot, renting the equipment you need might be a better choice financially and from transportation point of view. For $1 USD a day per item, you can rent everything you need, from down jacket to sleeping bag. In general, no advance payment or deposit is requested for renting gear.
Ensure you are renting from a reliable shop, and that the items are properly washed and taken care of.
If you can find stores that sell trekking gear literally everywhere, the story is not the same with the rental stores. They are most often not on the main road, they are hidden on small streets behind.
Some options for rentals might be:
Kalapatthar Trekking Store – located on Satghumti Thamel
Goreto Gear Traders – located on Bhagatibahal Marga
Kathmandu shopping for trekking gear offers lots of options, it all depends on your preferences, on your plans and the budget you want to spend. But no matter what you choose Kathmandu will have at least a meaningful proposal. Relax and enjoy, you are here to see the marvels of Himalayas and taste the local flavors.