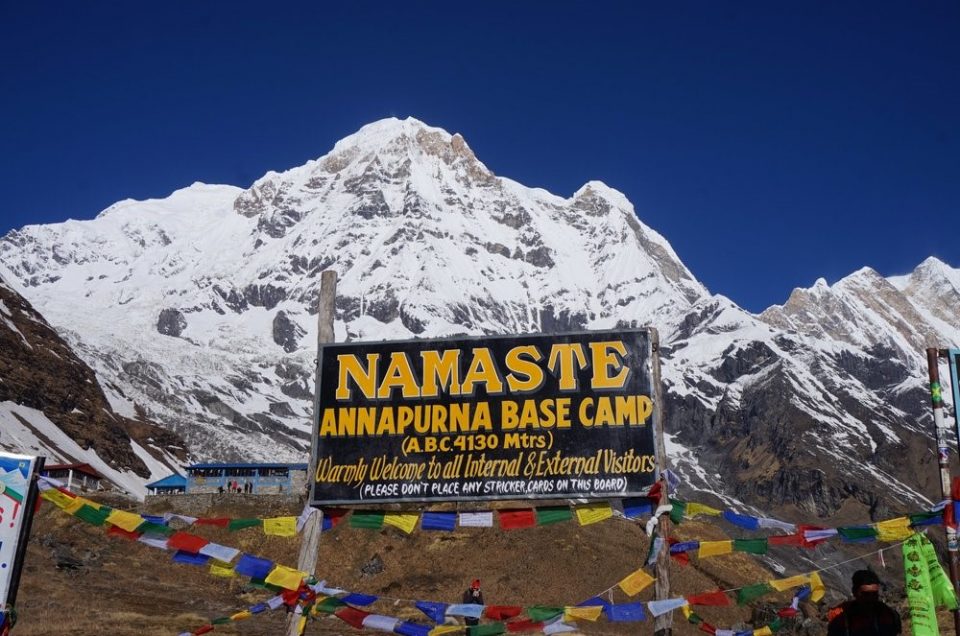 Annapurna Circuit, no matter its version, ranks high on a list with the most popular treks around the world. And it is without a doubt a fascinating trail packed with superb views that you will remember forever.
While trekking on Annapurna is not the most physically demanding activity on earth, it's not a relaxed walk in the park either. You have to be prepared, do your homework and find out all the information you need to make your trip manageable and to have a great experience while in the Himalayas.
There are several things you should know, before heading to Annapurna.
Two major issues may ruin your Annapurna circuit experience, physical condition and altitude sickness.
Physical Condition
Do not take this too easy, you should be in good shape and fit. Depending on your lifestyle you should start training for this trek, either at the gym or with shorter treks in the mountains. It's a good idea to consider trekking several days in a row on longer distances.
Most days on the circuit can be qualified as feasible with 5-6 h of trekking and a distance of 10-15 km with many breaks and rest. But there will be days with 15-16 h of trekking or more than 20 km to cover, probably in a snow-covered area. Annapurna circuits are long, are tough, tiring and sometimes hard.
It is worth it to be prepared physically to face such a challenge. You do not do this every day, so train in advance.
Do Not Ignore the Altitude Sickness
No matter how fit you are, or even if you are a world champion to the marathon or other highly demanding sports, altitude sickness at over 3000m altitude can affect you. You may experience different symptoms at altitude in different places on earth.
You will reach the highest altitude of the Annapurna circuit at Thorong La pass at 5,416 m. It is more than recommended to take your time and acclimatize for at least 2 nights, once you reach 3000m. Most often this is done in Manang. As a rule of thumb do not add up more than 300-500 m to the altitude at which you sleep each night. Pay attention to you body and listen to it!
Each person reacts differently at altitude, so it's better to take the necessary precautions. This means taking altitude sickness pills (Diamox is the most popular), hydrate yourself properly – at high altitudes and low temperatures your body dehydrates quicker, eat well and rest enough. React immediately when you feel the symptoms of altitude sickness appearing.
Acute Mountain Symptoms are serious, they can lead to death, so pay maximum attention.
Get Travel Insurance
As you will hike at high elevations, you need to be insured that in case of some unpleasant events you are covered. Annapurna Circuit is not a common challenge. You may be hit by altitude sickness, break your ankle or any other unforeseen event might interfere.
Travel insurance is among the first things you should get when preparing your trip to Annapurna.
Pack Light
No matter how you decide to make your trek to Annapurna, with or without porters, you still have to pay attention to what you pack. Bring just the necessary essentials and do not over pack (think maximum 10 kg).
If you will carry all your luggage, you will be grateful for this, if you use porters, it's still not a wise idea to pack things you will not use.
Ensure to bring with you the right break in hiking boots, you will walk for long hours, so having the right footwear is a great deal. Also, you might consider bringing with you trekking poles, your knees will be grateful – descending 3,800m is not exactly a piece of cake.
You can find in the following article a complete list of what you need to pack for trekking to Himalayas.
Source: wearefromlatvia.com
Take with You All Seasons Clothes
Annapurna trail is lining up tropical zones, alpine zones and anything in between as climate.
There will be days with nice warm temperatures when you will be hiking in t-shirts and freezing days with many degrees below zero, when you will wear all the clothes you brought. Avoid using cotton clothes as they absorb sweat, give preference instead to wool or synthetic materials.
Check in advance the weather prognosis and dress accordingly for the day.  
Sunlight and UVA/UVB rays
At high elevations the sun power is felt stronger. Take care of your skin and body and bring with you sunscreen, a bandana, a wide-brimmed sunhat and sunglasses with UVA/UVB protection.
Food and Accommodation
The food is generally considered to be good in the Annapurna region. The most famous meal is Dal Bhat, a traditional Nepali course composed of rice, soup of lentils, dal, potatoes and condiments. This is considered the most "substantial" meal so, you'll never be hungry around here.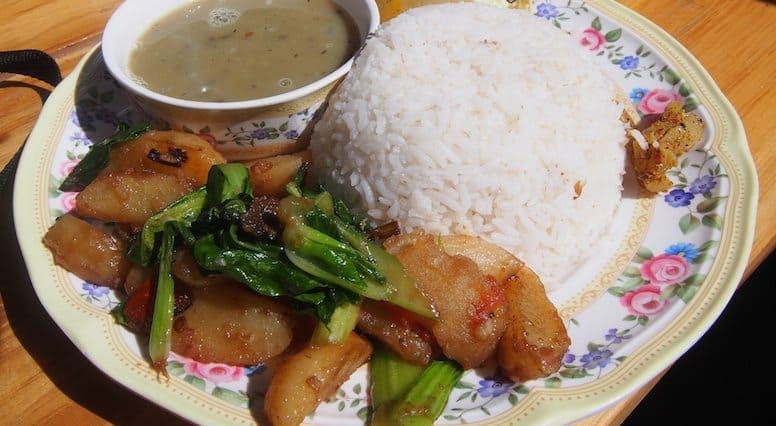 Source: Theyoganomads.com
The menu includes also seasonal veggies, rice, eggs, momos, soups, pasta, pizza, coffee, tea and beer.
Concerning snacks, it's probably better to buy them from Kathmandu or bring them from home if you know you are very picky.
Most probably while on the trail you will be staying at teahouses. Teahouses are modest guest houses (after western standards) that have restaurants. The earlier you arrive during the day to your destination, the more options you will have in terms of teahouses.
These are rather affordable (again according to western standards) $25-$50 per day for accommodation and meals for one person. And in low season, you might get some discounts like free accommodation if you eat all the meals at the respective teahouse.
Costs
Annapurna Circuit is affordable. 
Ensure you have enough cash with you, there are no ATM on the trail.
As for most parts of Nepal for Annapurna region you will need a TIMs permit and card. Here you will find the prices, in function of how you choose to trek.
Hiring a guide will cost you $25 per day no matter the group size. Make sure you pick one that has a decent level of English and inform him about your expectations and physical trekking capabilities.
Porters cost about $20 a day and carry luggage for 2 persons.
Tips are required for guides and porters.
Annapurna circuit has many chances of becoming a very rewarding trip, with its more than spectacular scenery and awe-inspiring panoramas. There is one single word that can label such an experience "amazing".