Trekking to Everest Base Camp is a once in a lifetime experience. Being properly prepared and having all the necessary equipment will contribute heavily to the success of your trekking expedition.
You will find below a detailed Everest Base Camp packing list of all the items you need for a trek to Everest Base Camp.
Remember Kathmandu is a great option where you can buy trekking gear at cheap or affordable prices, so there is no need to carry everything from home. You can theoretically buy everything you need for the trek in Kathmandu but pay attention to the quality and check attentively all details.
Also bear in mind that all stuff will get more and more expensive as you climb higher in the mountains. So, to avoid spending unnecessary cash on items that might not be up to your expectations, take everything you need from Kathmandu.
Two compulsory items to take care of before starting to pack are the travel insurance for your trek  and the hiking permit for the EBC – your Trekkers' Information Management Systems (TIMS) card, this permit is always something that we provide to you if you embark on one of our trekking tours.
Before making your packing list for EBC, you have to decide first how do you want to make this trek: on your own and you carry all your luggage or in an organized tour that will provide porters to carry a large part of your belongings.
If you choose to trek on your own take into consideration that you have to pack lighter and keep your gear at a minimum, otherwise you will carry the extra weight. This option is not something we recommend.
If you'll have porters, you have to split the luggage into the daypack that you will carry and will include the daily necessities like snacks, water bottles, camera, headlamp, sun protection, sun glasses, extra layers, poncho, money and documents. The rest of your gear will be transported by porters in duffel bag to the next tea house.
Trekking to Everest Base Camp – Packing list
First things first: Clothes
Layering – you have to get dressed in layers to allow moisture to pass from one layer to another. Thus, you need to have clothes made of wickable fabric. As the weather may suffer drastic changes along the day the ability to put supplementary layers or remove them is important to adjust your body temperature.
The variation of altitude 2800 m in Lukla and 5554 in Kala Patthar, plus seasonal variations will draw large shift in temperatures, from moderate warmth in the first days to rain and snow in Khumbu region, where mornings and nights can be very very cold.
It is recommended to avoid the monsoons season from July to August to avoid any inadequate weather conditions.
Avoid cotton materials as they absorb moisture and give preference to Merino Wool or Capilene (polyester) materials. For outer layer the Gore-tex material is recommended.
In terms of clothes you have to pack:
Moisture wicking long sleeve shirts 2 – 3
Moisture wicking trekking shirts 2-3
Long underwear pants 2
Breathable sports underwear – it depends on personal preferences from 3 to one for each day you will be on trek
Sports bras for women 2
Long sleeve shirts 2
Trekking trousers 2
Sweatshirt (optional)
Fleece Jacket
Fleece Pants – fleece-insulated ski trousers or trekking trousers
Heavy Fleece or Down Jacket
Waterproof Jacket with hood for rain or compact poncho
Waterproof Pants preferably gore-tex
Wide brimmed hat for sun protection – should protect your face and your neck
Wool hat, buff or Balaclava
Lightweight gloves that dry quick
Down waterproof mittens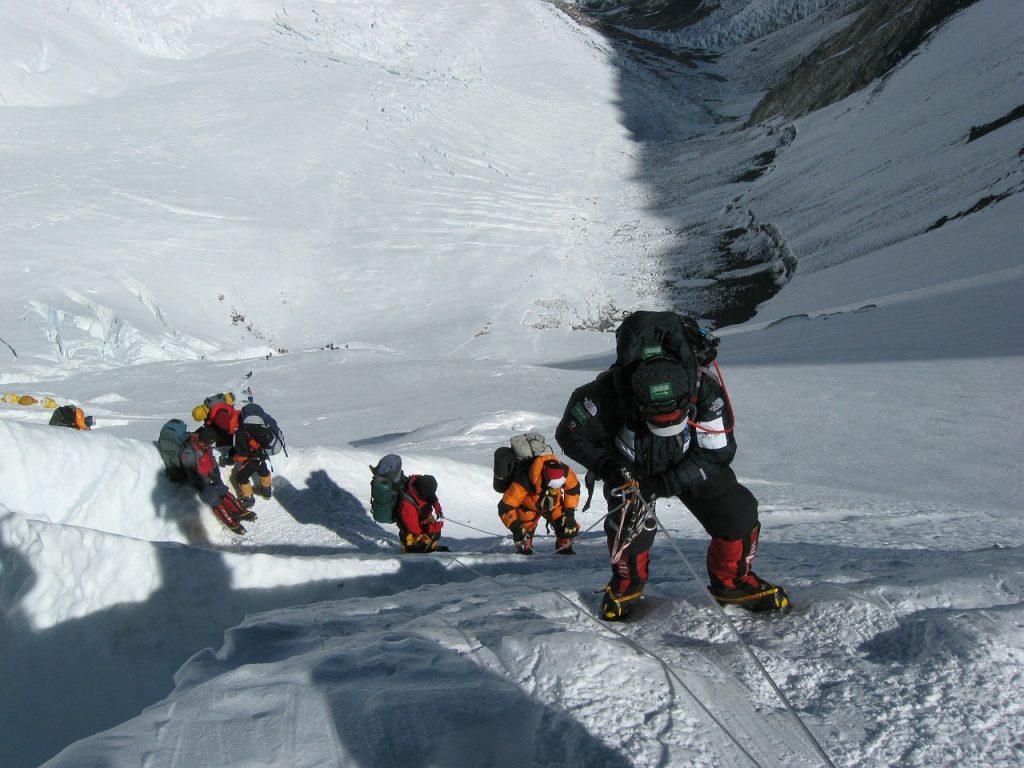 Source: Pixabay
Footwear: Socks and Shoes
Footwear is of utmost importance in your ascension towards Everest Base Camp. Having appropriate broken in hiking shoes can make or break your trekking trip. Bringing comfortable hiking boots that have the right measure, extra space for socks and support your ankle will be of major help.
A very common mistake is bringing boots that are too small. Another one is bringing new hiking boots. To avoid blisters, lost nails and foot pain ensure that your boots are broken in, meaning used for at least several long-distance hikes before you go trekking to Everest Base Camp.
A good option is to bring a mix of wool socks and thicker socks. Or you can use cotton socks if you bring enough pairs for all days. This is a matter of personal preference.
Thick wool socks 2 pair
Light hiking boots that support the ankle
Tennis shoes to use inside tea houses
Plastic bag to carry spare shoes
Trekking socks 4-6 pairs preferably merino wool
Thermal socks 1 pair
Trekking Gear for Everest Base Camp
Duffel Bag – A 80-90l strong, waterproof duffle bag if you are using porters in your tour.
Backpack – a 45-65l backpack (top opening rucksack) if you are trekking on your own.
Daypack – you will carry this, and it will comprise the essentials you want to have with you all the time. Ensure you have one with compression straps for reducing the weight pression on your back and a waterproof cover for it.
Sleeping bag – ensure you have a four-season bag rated for at least -15C, ideally a goose down one.
Silk sleeping bag liner – if you are planning on renting your sleeping bag this is a must for cleanliness and supplementary insulation.
Lightweight sleeping pad if you will be camping and not staying in tea houses.
Pillow case.
Adjustable trekking poles – they reduce stress in your knees particularly when descending.
Sunglasses – recommended to have 100% UV protection glasses.
Water bottles – 2 or Camelback.
Steripen, iodine tablets or some sort of sterilizing option for water.
Headlamps.
Small locks for day pack and duffel bag.
Drybag.
Several sacks for dirty clothes or shoes and waterproof bags for electronics.
Pocket knife.
Ear plugs (optional)
Lip balm with sunscreen.
Favorite snacks – bring your own from home, you might find that the options in Nepal are limited and their prices high.
Camera with extra batteries, memory cards and portable external chargers.
Solar charger.
Umbrella (works great in a light rain or to protect from the sun)
Moleskin for blisters or duct tape.
Trek map.
Playing cards.
Dehydration is a major problem when speaking about high altitude, you should consider drinking about 2-3 liters a day to stay hydrated. If you choose iodine tables you will need to wait about half hour to have potable water, with Steripen about 2 minutes.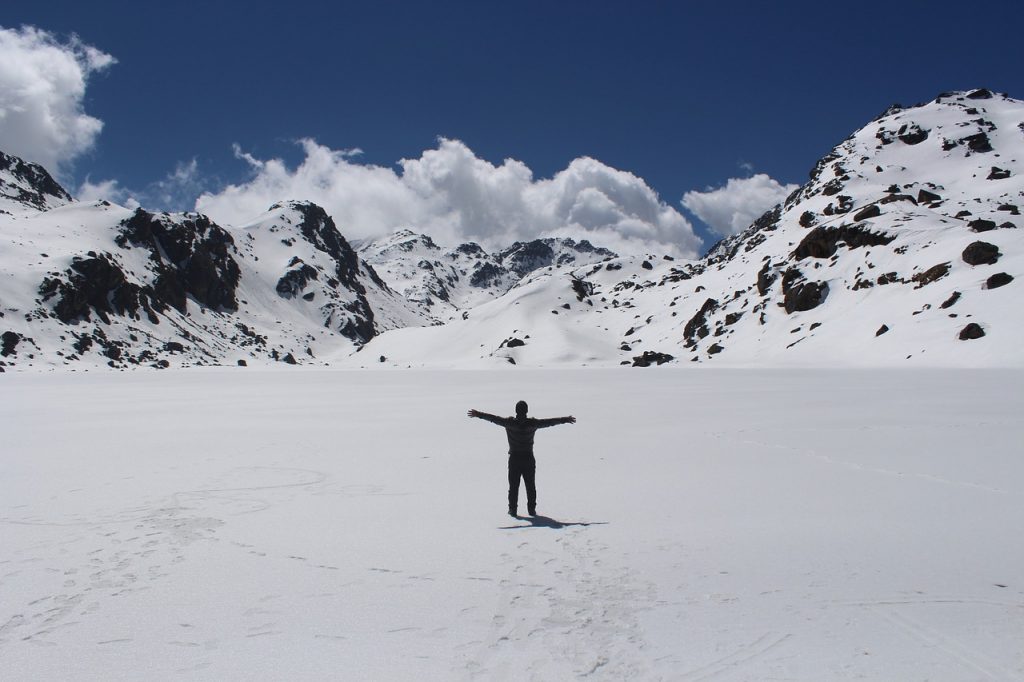 Source: Pixabay
First Aid Kit for Everest Base Camp
If you are travelling individually this is compulsory otherwise your guide should have a first aid kit, but anyway be prepared just in case.
Altitude sickness pills (ex Diamox)
Your current medicines if the case
Stoppers/goers
Painkillers (Ibuprofen or Tylenol)
Multivitamins
Antibiotics
Medicines to prevent cold
Throat lozenges
Electrolyte powder /isotonic powder
Many bandaids, blister plasters
Athletic tape
Mole skin for blisters
Gauze pads
Hand sanitizer
Altitude sickness is a fact, so take the appropriate measures, consult your doctor or use some medicines like Diamox. For supplementary information on altitude sickness check information on Himalayan Rescue Association of Nepal.
Altitude sickness pills price will increase along the trail, so buy them in Kathmandu to save some of your cash.
Pack electrolytes to help you stay hydrated, bring them from home as the offer in Nepal is not exactly satisfactory.
Toiletries for Trekking
Sun lotion
Toothbrush and toothpaste
Lip balm and face cream
Deodorant
Towel (small)
Wet wipes
Small soap and small shampoo
Baby powder
Liners and tampons (optional pee bottle)
Dryer sheets
Toilet paper – rolls
Face cleanser
Hair brush and hair ties
Pocket mirror – optional
Ear plugs – optional
Kindle (book)
Conclusion:
Well this is a detailed list of what you would need while trekking to Everest Base Camp, but of course you can tailor it according to your preferences and overall style.