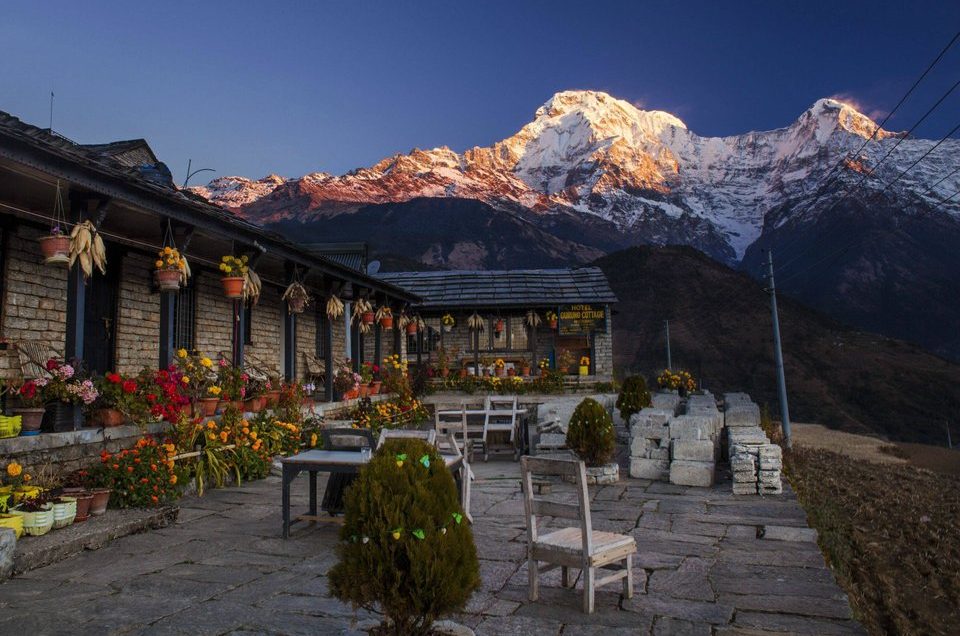 Specific to Nepal's trekking routes are the "teahouses", meaning guest houses spread in most trekking areas. And this translates into staying each night in one such teahouse, while on your hiking trail. Teahouse Trekking in Nepal is definitely the way to go and is a great experience.
The greatest advantage provided by the existence of teahouses is that trekkers can travel with minimal gear, without the necessity to carry tents and food.
A teahouse or a bhatti as the Nepali people call it, are lodges that offer accommodation for the night and home cooked meals. Teahouse may refer to a comfortable, solid multi-level brick-built guest house as those in Solu Khumbu, or to a small hut in the forest in the remote areas of Nepal.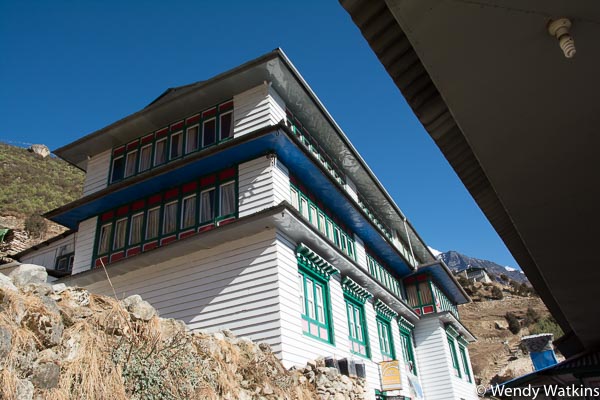 Source: Endlesstracks.com
The quality of these teahouses varies a lot in function of their position, on the popular treks or in remote zones, and in function of competition. Everest Base Camp and Annapurna Circuits have in general many teahouses, of various qualities, the less known trail routes offering just rustic or very basic tea houses.
In general, teahouses are simple stone or wood buildings, that shelter an open kitchen, a common area for eating, a bathroom area and a variable number of bedrooms with twin beds. They are specially built to host trekkers and sometimes is also the family's home.
In the Everest regions Sherpa people own and manage the teahouses. In Annapurna region the rules are made by the National Trust for Nature Conservation (NTNC), as this is protected area. Here teahouses and their activity are closely monitored, they are bound to certain rules regarding standard menus, prices, number of teahouses that can be built.
In lower elevations the teahouses offer more high-quality facilities, the higher you go in the mountains the scarce these facilities become and pricier.
Source: Theyoganomads.com
Depending on your cleanness criteria, rooms in teahouses may pass as clean or not. To avoid such issues, bring with you a silk bed liner or a light sleeping bag. Rooms are basic, they have most often, just the 2 beds, 2 mattresses, a table, 2 blankets and 2 pillows.
Walls inside the teahouses are thin and not insulated so, it might be a good idea to have with you year plugs.
If you prefer only the high-quality teahouses you should stay on popular trekking routes. For high season it might happen that the best teahouses are not available anymore when you arrive there. For late arrivals after 19:00 pm, food might not be available.
If you bought a package tour for your trek than the accommodation and meals are included, except drinks and snacks. If you are trekking on your own, the cost of the room is more than affordable ranging between $3-$10 per night.
Teahouse Amenities
At lower altitude on popular trek trails, teahouses offer hot showers – they cost a supplementary $4 fee and flush toilets.
As you advance higher in the mountains, the standard of toilets and showers tends to basic and very basic, like outdoor squat toilets and "showers" with a pot of hot water, or the worst case no water at all. So, it's a good idea to bring with you enough toilet paper, sanitizer and wet wipes.
The common eating hall is present in most tea houses and has a central yak-dung burner for heating. This is the area where trekkers gather to eat, rest, socialize and watch gorgeous sunsets in the mountains.
Teahouse Meals

Teahouses nowadays have a quite diversified food menu with a diverse choice of beverages including traditional tea, beer, juices. The welcome drink at a teahouse is almost always – you guessed – a cup of tea with sugar.
The menu will be more or less the same in most teahouses, you will find the traditional dhal bhat practically everywhere. Dhal bhat is the national dish of Nepal based on rice and lentils soup, with an assortment of veggies and sometimes meat.
Source: Inspiredadventures.com.au
The standard meal is a combination of rice or noodles with mixed vegetables and chicken or beef meat.
Besides this you may find in the menus: pizza, pasta, momos, soups, varieties of rice, noodles, eggs, muesli porridge, Chapati, Tibetan bread, hash brown potatoes, pancakes, sandwiches and dessert (chocolate pudding, rice pudding, banana or apple fritters).
Also, take into consideration that most of the times might be a good idea to order what's already available and fresh. If you do not want to wait too long for your meal to arrive.
Some recommend avoiding meat consumption in the Everest region after Namche Bazaar and in the Annapurna region after Chame.
Price of the meals, snacks and beverages will increase with altitude.
Meals served in teahouses are cooked by owners themselves. If there are too many tourists or the teahouse has not enough staff, the porters and guides will offer to help the teahouses owners with cooking. That should not surprise you.
Electricity and Internet Connection
Even if in many teahouses the wi-fi connection is available, its quality in terms of speed is far from being satisfactory, expect dial-up connection speed. The best quality for the connection may be found in Namche Bazaar. Elsewhere is pretty scarce.
In Nepal teahouses work most often on solar power, which means they depend on the sun light, wind and weather conditions. Thus, energy needs to be conserved and power outages are rather frequent, so do not wait too much to recharge your devices, you do not know when that will be possible again.
You have the option of charging the electronic devices – smartphones, cameras, e-readers, for a small fee that averages around $2-$4. In high season expect to have limited access to charging options due to high demand. Or to avoid this type of concerns you can bring with you a solar charger.
Because of the increasing number of international tourists and domestic trekkers, in high seasons teahouses may become overcrowded. And some travelers will be forced to sleep in the communal hall or even on the tables if there is no other space.
Teahouses are part of the intrinsic charm of the Nepalese hospitality and even if they might not be up to your standards, they are part of the local flavor and add up originality to your experience.