Blessed with an astonishing landscape and exquisite views of the Himalayas, Nepal is a trekkers' paradise. Offering a large variation of hiking opportunities from easy to moderate and strenuous this is considered one of the best destinations for trekking in the world. Plus, trekking in Nepal costs are more affordable compared to other places.
Besides a great scenery you will have the chance to experience a rich cultural diversity and meet people of various ethnicities.
You can trek in Nepal virtually in any season, obviously the costs will rise if you decide to go during the peak season.
So, now that you decided you want to go to Nepal for a trek, the next big issue to solve is the budget you need and calculate which are the costs for such a trip.
Trekking in Nepal costs will include several categories of costs: costs for trekking permits, transportation, guide and porters, accommodation and food. Plus, supplementary budget for shopping, souvenirs, maybe charity.  
The overall costs of trekking in Nepal will depend on various factors like the trekking destination of your choice, period of the year when you go to Nepal, length of your trip and the type of activities you want to enjoy.
Depending on your preferences you have of course different options at your disposal, to buy a package tour with everything included in Nepal or organize yourself individually. Trekking independently is not typically recommended unless you are a very experienced trekker or you have been trekking in Nepal before and have prior experience.
Your most convenient and the safest option is to buy a package tour. It has several advantages that cannot be denied which include the following:
You can save a lot of time when trying to organize your trip.
The tour company will be responsible for all bookings in Nepal, bookings for teahouses will be made in advance, which removes the potential for any surprises such as arriving at a guesthouse and there is no availability.
Experienced and certified guides that know the area and will be able to react in case any problems arise. The guides we have for example are first aid trained and will be there to support you 100% should they be required to do so.
Porters will be arranged so that your belongings are carried along the trail making the trip significantly easier for you.
The tour company will also take care of organizing your trekking permits.
Choose best options for accommodation and transportation as well as airport transfers.
Sometimes you will require an internal flight which will also be taken care of and booked for you. For example if you go trekking to Everest Base Camp you will require return flights between Lukla and Kathmandu.
Of course, these services will translate into additional costs compared to if you would do this yourself.
Just to have an idea here are the costs for some of our most popular treks in Nepal:
Trekking in Nepal Costs – Transport
Transport in Nepal for trekking purposes can be done by roads and by air. The cheapest transport option is by bus, but you can also choose to rent cars or jeeps.
Hiking routes have starting points – "trailhead" from where the trek starts, these are usually placed out of towns, and you will use motorized transport to arrive to these points and return from them. Each trekking destination will have a different trailhead.
To reduce expenses, you can use public transport. Not to mention using public transportation in Nepal is an experience in itself.
As a general idea the bus costs between $8 and $30 (the variation is due to the extra services) per person from Kathmandu to Pokhara, cost of jeep is $50-60 per person and flight will cost $120 per person one way.
Trekking in Nepal Costs – Trekking Permits
While trekking in Nepal you will need trekking permits, most often you will need two or three permits depending on your trekking route. There will be a permit for the national park or conservation area, another for Trekkers Information Management System (TIMS) card and possibly other ones for restricted areas.
The amount you have to pay for entering the restricted areas depends on the lengths of your stay and the season of the year. You should obtain all the necessary permits before entering in any restricted area. To apply you need insurance documents and passport size photos.
Trekking to Annapurna, Langtang and Khumbu regions, you will require national park permits and TIMS cards. National park tickets for foreigners cost $20-40.
The permits for restricted areas can be obtained via local trekking agencies and in these regions,  you are required to have at least a guide and a porter. Such restricted areas are: Dolpo, Manaslu, Upper Mustang, Tsum Valley, Kanchenjunga and Nar-Phu. For example, in Upper Mustang area the price of the permit is $500 per person for the primary ten days and after that $50 per day for each person.
For high altitudes you need also special climbing permit. Trekking at 5,650 – 6,500 m will cost $350 for 1-4 members.
Trekking in Nepal Costs – Accommodation and Meals
The costs of accommodation vary with the season, the popularity of the trek, altitude and sometimes comfort.
On popular routes the teahouses offer standard basic comfort, most rooms have twin beds and showers available. In higher altitudes the prices of accommodation increase while becoming more basic.
In general the prices for accommodation are between $3-5 per night per person, with meals included. In higher altitudes the price can go up to $10 per night. In most teahouses you have to pay separately for hot showers like $2-3.
The prices vary upon the season, in peak season they are higher and there is little room for negotiation. On renowned treks like Annapurna Base Camp and Everest Base Camp you can find luxury lodges that offer a higher standard of comfort and cost $100-300 per night.
Concerning meals most tea houses have more or less the same menu, with local traditional meals as the main choice, plus a variety of options for breakfast and dinner. Cost of food also increases with altitude and peak season.
Teahouses offer decent, tasty food made in hygienic conditions at more than affordable prices. A meal can cost between $2 and $10. Since water is extremely important at high altitude its price is quite important, it varies between $0.48 and $2 per litre.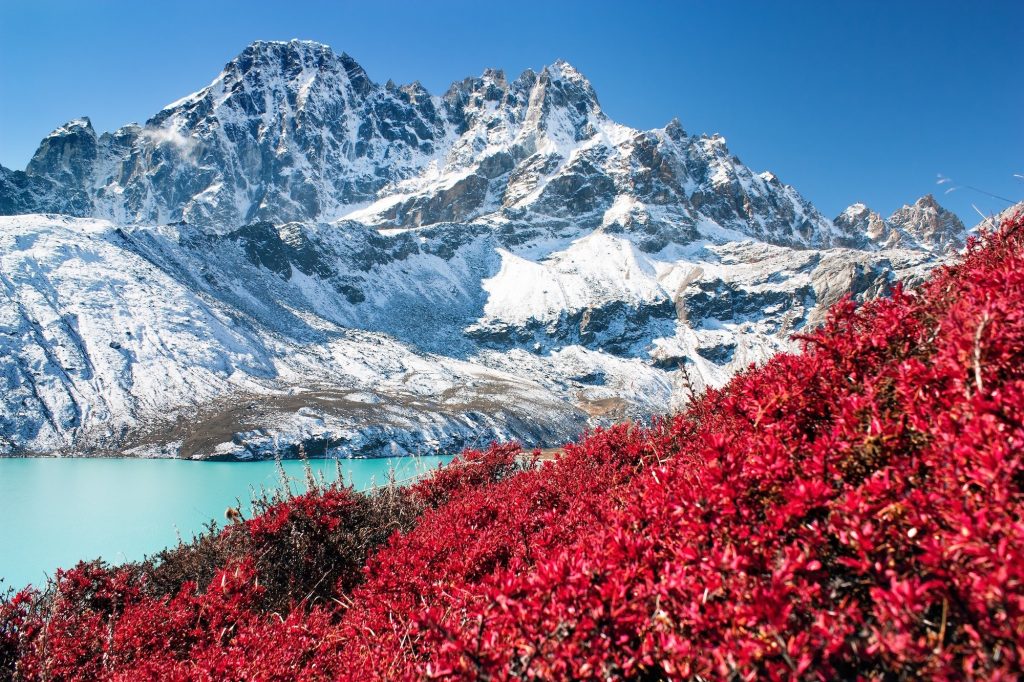 Trekking in Nepal Costs –  Guide and Porters
The guide of the tour will be in charge of organizing the trip in advance and will be at your disposal during the trek to direct you, share information and experiences with you and help you stay safe.
Porter will be a local person carrying your belongings.
The price of the guide and porters will vary with the difficulty of the trekking route.
The price for the guide is typically a standard rate per day of $30-40 for an experienced skilled guide and $20-30 for a porter.
Trekking in Nepal Costs – Supplementary Expenses
While in Nepal you may want to spend supplementary funds on charging electronic gadgets – camera, phones and this may cost between $2-5. You may want to pay for Wi-Fi, for hot showers, donate when you visit monasteries or stupas, or offer a tip to your guide and porters.
Finally, your budget and costs for trekking in Nepal will vary depending on your preferences and requirements. So, its up to you how much will you spend on a Nepali trekking experience.